"Why isn't Huck Finn's dad nice to him?" Blondie asks from behind her beloved stuffed dog Sledgehammer.
Bo closed The Adventures of Huckleberry Finn and stared at the cover a good long moment before answering. "Some parents are not that nice, kiddo," he says, and goes on to talk a bit about alcohol addiction.
I came in after her prayers as I always do to give her a hug and kiss goodnight. "I hope Huck gets away soon," she says.
"He can't have any adventures if he doesn't."
Blondie nods, then brightens. "I can't wait until my birthday party!"
So it goes when talking to an almost-nine-year-old: from horrifying parents to birthday celebrations in the blink of a beautiful eye.
It struck me, then, how few stories I read during my own childhood that contained positive parent figures. There's no parents in the Chronicles of Narnia that I recall. Ramona Quimby had a mom, I think…but she wasn't a major character, or at the very least, memorable. Fairy tale parents are usually evil or inconsequential. Babysitter Club books are usually about girls solving their own problems without parental help (why else would a babysitter be around?). I don't recall Nancy Drew having extensive scenes with her folks. Few of the detective novels I read had much of anything to do with family, come to think, unless you count Sherlock's brother Mycroft. But that's a brother, not a parent, and he only shows up twice.
Huh. No wonder Blondie's reaction to Huck Finn sticks with me still: I didn't have that kind of exposure to the Nasty Parent at her age. Even the evil stepmom of Cinderella doesn't go on drunk binges and whip Cinderella with a belt. Huck Finn's dad is nasty. Scary-nasty. The sort of nasty that's talked about on the news or in a television series, not a kid's book.
Now why am I going off like this? Because here in the U.S. Mother's Day approaches, and I want to celebrate the positive parent characters in children's literature. Seriously, they exist! Like…um…oh! Ray Bradbury created a loving relationship between father and son in Something Wicked This Way Comes. Even Diana Wynne Jones, who had a miserable relationship with her own parents, could still create some flawed yet very loving parents in books like Archer's Goon and The Ogre Downstairs.
Today, I'd like to look at one of the strongest moms in fantasy fiction, a widow with four young children, one of whom's gravely ill.
I am, of course, talking about Mrs. Frisby.
Or Brisby, if you knew her by the Don Bluth film like I did.
For some reason the film adaptation of Mrs. Frisby and the Rats of NIMH named her Brisby. I'd like to think it's because Hermione Baddeley, who voiced Auntie Shrew, really rattles your teeth whenever she shrilly hollers Mrs. Brisby's name.
With all due respect to Robert C. O'Brien, the book moves with a much…quieter, calmer pace, I'll say, than the Bluth film.
And, well, let's face it: O'Brien doesn't have any electro-magic wielded by rats voiced by the majestic Sir Derek Jacobi, let alone a soundtrack composed by the ever-wonderful James Horner.
Bluth's version of Mrs. Brisby is a widow just like the Mrs. Frisby of the book, and both versions do have four children and one suffering from pneumonia. But unlike Mrs. Frisby of the book, Mrs. Brisby is constantly facing certain death in order to protect her kids. From standing in the bones of other mice to speak with the Great Owl…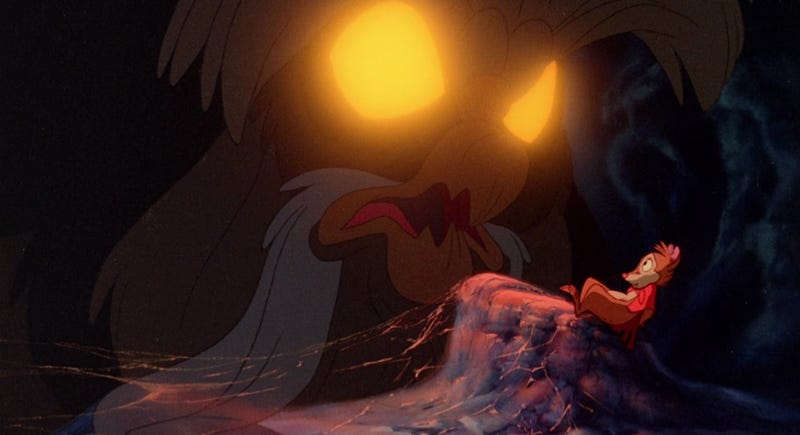 …to running under the farmer wife's feet in order to sedate Dragon, the barn cat that KILLED HER HUSBAND, Mrs. Brisby puts her life on the line time and again for her family. I can still remember the terror racing through my little-kid heart when the giant rat guard tries to electrocute Mrs. Brisby at the gate into the rose bush…
…or when the Brisby home begins sinking in the mud and all the kids inside are gasping for air.
(Oh yes, Bluth's films are both awesome and TERRIFYING. Just ask MG author Celine Kiernan—she worked for him!)
But because I felt the terror then, and saw this little mommy mouse defy her fears to run into a moving tractor to disable it while the ceiling started to cave in around her sick son, because I felt the panic in her pulling rope after rope around her sinking house to keep her children from drowning—because I felt all the fear Mrs. Brisby experienced, the courage she also displayed resonated with me very, very deeply; it resonates with me still, thirty years later. In a story of mice and electro-magic rats, I saw motherhood in its purest form:
Love, fearless and boundless, strong and eternal.
May our own hands brave the fire to protect those who matter most.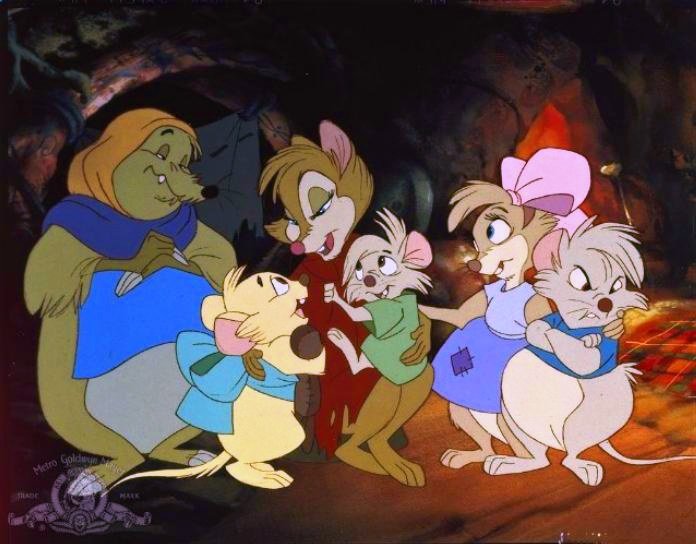 What positive parent characters appear in your favorite stories? Please share so I can give Blondie something to look forward to…
I'll be the first to admit the moms of my own fiction are, shall we say, some nasty pieces of work. Scope out my novel and free short stories on this site to find out more.
Read on, share on, and write on, my friends!