To all Moms and Those Who Mother: A Blessed Mother's Day to You!
So you may think that as a mother, I would spend this post gushing about my kids.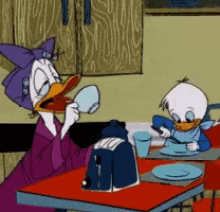 Erm…nah.
I talk about those little hoodlums enough. Besides, Blondie turns 10 in a few weeks, and I'm bound to get her on around then to talk about fantasy adventures she loves.
So let's shove the kids into a room with trucks, dragons, and "cutelys" (Biff's latest stuffie animal crew, of which he's the zookeeper and it's all undeniably adorable) so that you and I can take a moment to realize it's the month of Wyrd and Wonder. Huzzah!
Once I discovered this amazing celebration of all fantasy reads, I just had to jump in. Before this month, my kids' only knowledge of Diana Wynne Jones was the Ghibli adaptation of her beloved Howl's Moving Castle. When I finished reading the lovely little mystery Basil of Baker Street, I asked them what they'd like me to read next for lunchtime. They gave answers involving puppies, robots, and spaceship schematics.
Nnnnope! Time to visit the Queen of the Fantastic. Not with Charmed Life–I don't need the boys accusing Blondie of draining their life force (or vice versa). And no, I didn't take them to Howl's castle. I'll share an analysis of the chosen story later this month. 🙂
In the meantime, I thought it'd be fun to celebrate Wyrd and Wonder with favorite snippets of Jones that highlight her craft and humor. I love love LOVE Reflections on the Magic of Writing and The Tough Guide to Fantasyland, so I'll be sharing highlights from these books every day over the next…hmmm…let's say for twenty days or until I finish the chosen story with my kids, whichever comes first. Shall we start with a fitting entry for Mother's Day? Indeed! Yes, one that instructs Tourists of Fantasyland to be wary of those mothers of fantastical nations, the Queens.
Queens ruling in their own right are rare, but they do occur. When they do they are:
Totally useless because dominated by a male lover or COUNCILLORS, or both.
GOOD, but incapacitated by MAGIC or scruples or both, in the most extreme cases, this Queen will sit on her throne perpetually in a state of blanched preservation. Tourists requiring favours of her will need only one look to know that here is something else they have to put right before they can get on with the real business of the Tour. When rescued such Queens can put things in order with commendable briskness.
Good. This Queen will be a MAGIC USER and terribly conscientious. In her case the Tour will reveal something highly amiss with either her COUNTRY or the whole continent. The Queen will often have to join the Tour to put this right (see SAVING THE WORLD). You will have to spend the Tour worrying about the Queen's safety.
Old-fashioned bad. This kind of Queen is totally in control. She has everybody terrified of her, possibly through Magic. And, again possibly through Magic, she will be beautiful…Her Country will be the most abject and oppressed of any on the Tour. Since she is very cruel, this will not bother her at all.
A bad mother. This Queen is really ruling for her young son (see CHILDREN), but she will be so anxious to go on ruling that she will be bringing the lad up to be wholly dependent on her. This Queen is a dangerous sentimental bitch, because she will claim that everything she does is for the sake of her Child. She will try to POISON anyone who gets in her way. Only a powerful AMULET will help you here. Naturally no Tourist will want to have anything to do with this Queen, but it will usually be necessary to release the young KING from her clutches before you can proceed on the Tour. The local God may well insist on it.
Oh, it is going to be sooooooo fun sharing these! I hope you find Jones' words a source of fun and inspiration as you create your own story-worlds.
Speaking of story-worlds, I've thrown my own tales into the Wyrd and Wonder celebration!
My Historical Fantasy novella Night's Tooth will be FREE May 15th-18th, and my YA Fantasy Novel Fallen Princeborn: Stolen will be just 99 cents over May 22nd-25th
Night's Tooth is about as about as gritty a story as you can get and Jean Lee is just the woman to deliver it. Her world building and sense of timing deliver a heightened sense of tension and you'll find yourself holding your breath page after page. For those with a low suspense threshold, I recommend reading Night's Tooth with all the lights on!

Thanks for the awesome review, P.J. Lazos!
*
*
*
*

I typically read any kind of genre if the writing flows. But my favorite tends to be the YA fantasy and YA paranormal. Because of what I do for a living (oncology nurse), it is refreshing to read something that takes me far from this reality and into an alternate, believable time and place.

The heroine, Charlotte Aegir, is perfectly flawed. So, while the storyline and the world-building is so creative and imaginative, and steeped in faerie, Charlotte's flaws and rough edges are also so true and…well, real, giving this dark fantasy novel a genuine emotional core—a beating heart—that we humans can relate to.

Amazon Review
Thanks so much for reading this slapdash post written while Bo and the boys race along with Bandit down the highway with Smokey on their tails. I hope you'll come back for the upcoming journey through craft and Fantasyland–be sure to share your own celebration of all things fantastic in the comments below, too. Let's spread the word that spring's the time for Wyrd and Wonder!
Read on, share on, and write on, my friends!