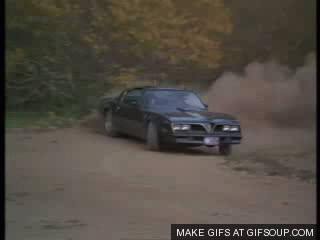 "Mommy, I'm Bandit!" Biff hops toward me with his bear held high. "And this is Snowman! We gotta go to Texarkana County for cookies!" He runs in place, revving noises loud and strong, and then bolts down the hallway to my room, where there is no trace of cookies or Texas.
Bo sits at the table with his latest P.J. O'Rourke book, tea in hand. He's trying to look innocent, but it's not MY doing that the soundtrack for Smokey and the Bandit has been on for HOURS. Biff didn't find that CD downstairs on his own, oh no. That little bugger had help.
"At least he's not talking about bootleg beer," Bo says.
"EW, beer is GROSS!" Biff hollers from my cookie-free room. "I'm on the run for bootleg cookies, not Coors!"
Bo hides behind his book.
"Eastbound and Down" starts up for the 3,511th time.
Must. Go. Outside.
Blondie and Bash are in a fit of camaraderie, which I'll take over the previous fit of racing and grabbing at each other's hoods and yanking each other to the ground. The two are blowing bubbles and talking up a storm over their new Comfie Club, choosing with of their stuffed animals will be in charge and whether or not Biff will even be invited.
The last bit, I admit, hurt. Biff's the middle kid, just like me, and I was often left out of my brothers' games when we were kids.
"Watch out, Snowman, here comes Smokey!" Biff tears by the window, "horn" blaring as his bear shakes frantically above his head. "We gotta jump the bridge, look out! Aaaaaaaah!"
I watch that boy and his bear leap from couch to chair and back as the banjo strums on. He's reveling in an adventure all his own. Who am I to force him out of his imagination and into another's?
We all need our passage out of reality once in a while. Thankfully, Wyrd and Wonder provides the perfect opportunity to escape the humdrum for something new.
Perhaps, like Biff, you wish to escape via the roads. Weeeeell they ain't exactly paved in Fantasyland.
ROADS in Fantasyland are not good. Tourists have frequent cause to complain. There are several types of Road, each with its characteristic inconvenience.
Ancient magical ways, normally engineered from some black rocklike substance impervious to wear. These are so old that only short stretches remain. The rest has been torn up or buried in some ancient CATACLYSM. This can be exasperating. You are just beginning to make some decent mileage on this tarmaclike surface when it stops, and you are back to a snail's pace again.
ANCIENT ENGINEERING PROJECTS. These are wider than an eight-lane highway, dead straight, and made of cobbles that preternaturally show no sign of aging. Though hardly ever used today—they are characterized by windswept emptiness—they were clearly built to allow a traffic of horse-drawn carts, four lanes in each direction, travelling at seventy miles per hour.
Old trade routes. These are long-disused and normally serve to do little more than point you in the right direction. If you try to follow them you are quite likely to get lost when the route peters out into pathless moorland or even MARSHES. If the route is obvious, you will find no shelter along it, and no WATER.
Unpaved roads. These are the norm. They are always muddy and full of deep ruts from the passage of MERCHANTS and previous Tours. They lead through dangerous WOODS and abound in rocky defiles ideal for AMBUSH. Nobody ever maintains these, despite frequent representations to the Management, and you have to use them because they are the only way to get about. Some Tourists lose patience and ride across country, but this is not recommended because it is the surest way to get attacked by APELIKE CANNIBALS.
Hmmm. Maybe roads aren't the best way to go with those cannibals and ambushing bandits hiding all over. What about the mountains?
MOUNTAINS are always high and mostly snow-capped. There seems to have been no ice age in Fantasyland, so the Mountains rise tens of thousands of feet into pointed, jagged peaks, which have evidently never suffered erosion. They are full of rocky defiles and paths so steep you have to dismount and lead the HORSES. Almost certainly there will be at some stage a ledge along a cliff that is only a few feet wide with an immense drop the other side. This will be covered with ice. Snow will be xweeping across it. The Rule is that you always in a hurry at this stage.
MOUNTAIN PASS, BLOCKED. The Rule is that any time you need to get from one side of the MOUNTAINS to the other, the pass across is blocked. The pass will be a narrow rift high in the Mountains, and by the time you have climbed up there, either with the forces of the DARK LORD hard behind you, or knowing you have only so long to get to the other side before the forces of Darkness get there first, you will find the pass…impassable. Usually the Management applies this Rule by prudently sending you off in winter, so that the pass is snowbound; on occasion, though, the blockage can be a landslide or a fall of rocks. In some cases, you can go down and round the long way, but mostly you just have to bash on through. Somehow. See also HARDSHIP and HYPOTHERMIA.
Oh yeah, hypothermia…never mind! Well I do like my rivers. My town's on a river, my state's on a river. Heck, did you know that Wisconsin is home to 26,767 miles of streams and rivers? That's enough to circle around the entire globe and THEN some! (I learned that while digging up facts about Wisconsin for the kids to copy for handwriting. Ain't that neat?) So, let's try a river.
RIVERS in Fantasyland are often very peculiar. Some even flow uphill. Setting aside normal features such as the fact that neither WITCHES nor the forces of the Dark are able to cross RIVERS, , we are left with the unaccountable way that each bank of a given RIVER is liable to be different, and even more unaccountable way the local inhabitants ignore this oddity. The reason seems to be that the left bank of a River (face downstream) is often Highly Magical and full of Hidden Dangers, so that the dwellers are unable to see that side of the River at all. Heaven knows what they think they see instead, or the reason for the difference between the two banks.
BRIDGES. The inhabitants of Fantasyland seem to have a distrust of Bridges, maybe because they provide an easy way for an invading ARMY to cross to a VILLAGE on the other side of the RIVER. This is a great inconvenience to the Tourist. The Rule is that, when being pursued by the forces of the Dark, you are going to need to cross a Bridge, and there will be no Bridge. While the Tour is waiting to find a way across, the forces of the Dark have time to catch up. Even if there is supposed to be a Bridge on the route, you are likely to arrive to find it broken–whereupon the forces of the Dark gain steadily again. The only Bridges sure to be still in place are ANCIENT ENGINEERING PROJECTS, and they will be huge, with, as soon as you get to the middle, a tendency to develop a small but impassable gap right at the apex.
Well, how on earth can we get anywhere when the mountains are blocked, the roads are awful, and the bridges on the verge of collapse? I guess we'll have to stop at a river's town and socialize with the townsfolk therein…tomorrow. x
Until then, you can still catch my novella for FREE! Enjoy a little history of railway bridges over the timeless Mississippi as bounty hunters race to catch a saboteur determined to destroy a mysterious train…
Read on, share on, and write on, my friends!