Miss Parts 1 and/or 2 of my Robert McKee & Star Wars series? Click a number to catch up!
Nothing grinds a writer like plot holes. Hell, I STILL can't watch the film adaptation of Harry Potter and the Prisoner of Azkaban without griping at the screen about the absent explanation of how Lupin understands the Marauders' Map.
No writer tells a story with the intention of digging plot holes (one would hope, anyway). If a writer loves the craft enough, that writer will do their utmost to tell a complete story, avoiding intentional plot holes like Biff avoids broccoli.
The bugger comes when the story sprawls over the course of multiple installments. Now the writer doesn't have to reveal everything before the end of Act III. Important reveals can be put off until Act VIII, or XI, or even XIV. After all, what else engages audiences like a good mystery?
You do not keep the audience's interest by giving it information, but by withholding information, except that which is absolutely necessary for comprehension.

Robert McKee
JJ Abrams has never been shy over sharing his love of mystery. To him, storytelling is all about The Mystery Box, as this excerpt from his 2007 TED Talk shows.
On this page, it would seem that Abrams and McKee agree. If one answers aaaaaaall the questions before the story's even begun, why should readers care about the story? I can only imagine how readers would have felt if Rowling had wedged Voldemort's backstory into the first book of the Harry Potter series instead of the sixth. Honestly, I know what I'd have done:
Glazed over it.
But after reading five books about this villain, seeing his various reincarnations and the consequences of his ambitions, I'm dying to know who this dark wizard is and what drives him. Harry Potter and the Half-Blood Prince has always felt like the least action-oriented book of the series, but readers are still okay with this because a degree of the mystery is being revealed to them. After the monumental battles in the fifth book, the series' pacing allowed for a slow-down.
Regarding JJ Abrams and Star Wars, he likely felt comfortable building oodles of Mystery Boxes in The Force Awakens because he expected the later movies to open his boxes and reveal the answers. If we learned eeeeverything about the First Order, Rey, Luke Skywalker, etc in The Force Awakens, then we wouldn't be curious to see what's coming in the other films.
A certain amount of audience curiosity is essential. Without it, Narrative Drive grinds to a halt…. But you must not abuse this power. If so, the audience, in frustration, will tune out…. No dirty tricks, no Cheap Surprise, no False Mystery. False Mystery is a counterfeit curiosity caused by the artificial concealment of fact.

Robert McKee
Over-telling too early causes people to forget what is important and be confused by what isn't. Under-telling, however, can be just as dangerous, and on this, Abrams is VERY guilty. Let's walk through a few plot holes in The Force Awakens and consider whether or not these "conceals" are necessary or artificial. For comparison's sake, I'll use two very different trilogies, one of blockbuster scale (Hunger Games), the other not (Southern Reach).
ONE: The Beginning
I already whinged enough about how The Force Awakens simply dictated the universe must have the same stakes as the Original Trilogy without showing how the heck this galaxy far, far away started the vicious cycle all over again. This information, however, didn't have to come in The Force Awakens. The first Hunger Games book doesn't dive too much into the world's history; instead, we get this information in bits and pieces throughout the second and third books. For the films, this storytelling method worked pretty well, as the first film could focus strictly on Katniss' preparation and battle for survival in The Hunger Games at hand. In Annihilation, we have no idea where Area X came from, let alone the backstory of nearly all the characters. It's not until Acceptance, the final book of The Southern Reach trilogy, that we learn the true motivations of the antagonist from the first book as well as where Area X came from. Had all that information been dumped on readers in the first 100 pages, they'd be bogged down and ignoring what really was important, focused instead on whatever words relay the current protagonist's plight.
So as far as these opening stakes go, Abrams, you get a small pass.
TWO: Pilot Poe's Survival
As I described in Part 2, the character Finn, our Storm Trooper Turned Good, escapes the First Order with Rebel Pilot Poe. They crash the TIE fighter, and when Finn awakes, he finds himself alone with Poe's jacket. The ship sinks in the sand, and as far as Finn knows, Poe's died in the sand already. He says as much to the droid BB-8, and the story goes on, treating the pilot as lost…
…until he shows up at the Resistance base, healthy and whole.
How'd he survive the crash?
Dunno.
How'd he get off the planet without the First Order noticing? They were all over the place chasing down Finn, Rey, and BB-8.
Dunno.
And we never find out.
Now if Poe were a tertiary character, one with little presence in the story or impact on the overall plot, we could probably evade this plot hole without much trouble. Easy peasy–Poe woke up first and got away from the ship. He left his jacket because…well it doesn't matter. He abandoned his new friend Finn because…well, it doesn't matter. He got off the planet without looking for his droid BB-8 because…well, it doesn't matter. What matters is that he got back to the Resistance to fight another day.
That sure is a lot of "doesn't matters" for one character's choice, isn't it? A character's choice that, considering what little we do know of the character, doesn't make sense. Poe's the one who wanted to return to this desert planet to find his droid, and yet he vanishes from the story entirely to arrive just in time to wave happily to the droid that, by all accounts, he was determined to find. But we never see him try to find the droid, the sole motivation for his actions in the first half of the movie.
A "hole" is another way to lose credibility. Rather than a lack of motivation, now the story lacks logic, a missing link in the chain of cause and effect….Maybe the audience won't notice. But maybe it will. Then what? Cowardly writers try to kick sand over such holes and hope the audience doesn't notice. Other writers face this problem manfully. They expose the hole to the audience, then deny that it is a hole.

Robert McKee
What frustrates a writer like m'self so much over a plot hole like this is that it would not have taken much to fill the hole. Abrams could have kept Poe out of the plot until Finn and Rey arrive at the Resistance base, sure. We could have seen him still recovering from the crash, demanding a ship to fly back for BB-8. We could have seen him on a communicator, checking in with ships on any signs of BB-8.
A character's absence may be forgivable, but not the absence of motivation. When Katniss and Peeta are separated in the arena, we find out later on what Peeta was doing, and his physical/emotional state show proof of this. When the psychologist separates from the biologist, we don't know what she's up to. The biologist shoots her at the end of Annihilation, so we're left to assume the psychologist was up to something nefarious. It's at the end of Acceptance that we at last fully understand the psychologist's motivations–and what the hell she was doing at the lighthouse in the moments before the biologist shoots her.
If Poe needed to be removed from the film to give time for Rey and Finn, then so be it. But that didn't mean Poe's arc gets to be fast-forwarded to where it's convenient. He needed to be off-screen following through on his motivation so that when he's back on screen, he looks like he was off-screen for a reason.
So as far as Poe goes, Abrams, that ship don't fly.
THREE: Talking Lightsabers That Just So Happen To Be In A Mysterious Box In A Tavern's Basement
This is the point where I audibly said "Bullshit" in the theater.
Finn, Rey, and BB-8 travel with Han Solo and Chewbacca on the Millennium Falcon to some ancient looking planet's cantina, where the owner Maz Kanata provides sage advice. While Maz and Han talk, Rey hears something and goes under the cantina into a big storage area, where a faint voice calls from a box. She opens the box to discover what the audience immediate recognizes as Luke Skywalker's lightsaber. Maz finds Rey and tells her about the force, but Rey refuses the lightsaber and runs off. So, Maz brings the lightsaber to Han.
"A good question, for another time."
Say WHAT?!
…coincidence is a part of life, often a powerful part, rocking existence, then vanishing as absurdly as it arrived. The solution, therefore, is not to avoid coincidence, but to dramatize how it may enter life meaninglessly, but in time gain meaning, how the antilogic of randomness becomes the logic of life-as-lived.

Robert McKee
When used well, coincidences help tie together plot elements and propel the narrative along. In the first Hunger Games, for instance, it's a pretty big coincidence that the other candidate chosen to fight for Katniss' district has also been crushing on her for years. In Authority, the second book of The Southern Reach Trilogy, the new director stumbles upon the psychologist's old phone and, thinking it might hold useful data, takes it home. This just so happens to be the same phone the psychologist had taken into Area X on a secret expedition, so of course, that phone has changed into something else…a something that is now skulking around the new director's home.
On Rey's desert planet Jakku, there just so happens to be a seller of parts scavenged from other ships, and this seller just so happens to keep some junk ships…like the Millennium Falcon.
While I have a hard time imagining Solo losing his ship, I can accept it being considered garbage; after all, in A New Hope Luke takes one look at the Falcon and says, "What a piece of junk!" So that a scavenger has allocated the Falcon on the planet where Rey just so happens to live is an acceptable coincidence.
That Han Solo just so happens to fly Rey to a cantina where a sage-like character just so happens to have a vault with a box that just so happens to have Luke's lightsaber that just so happens to connect with Rey…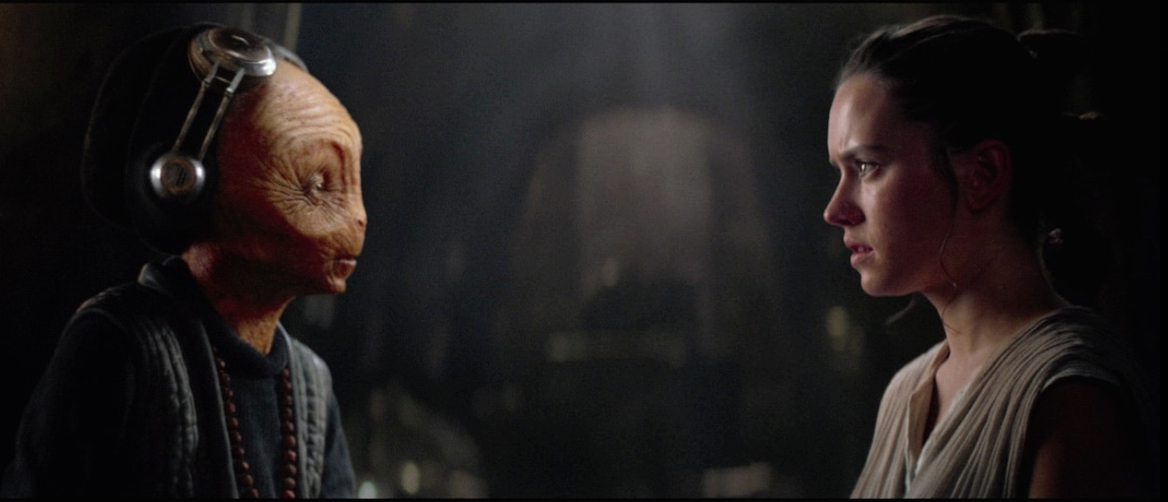 No.
That is not acceptable.
Had Maz mentioned living in Cloud City (where Luke had lost the lightsaber in his duel with Vader in The Empire Strikes Back), okay. Weird, but okay. At least there's some sort of intent, a trail of motivation: Force-sensitive Maz discovers the lightsaber and feels its importance, so she keeps it safe until finding its owner. Or Lando's team recovers it and gives it to Han, who entrusts it to Maz for whatever reason. Heck, in Rey's vision of the Jedi temple burning and Luke crouched low by R2-D2, Maz could have been there ready to give him the lightsaber, but upon seeing the Knights of Ren hides instead.
Instead, we have none of these things. We have only the Mystery Box, and "another time."
And maybe Abrams did intend to explain this Mystery Box another time. There were two more movies, after all, and he had notes for the other directors to help keep the storyline unified across the trilogy.
Only The Powers That Be in Disney and Lucasfilm didn't see the importance of paying off those expectations. They had their own agendas, agendas that would take the galaxy far, far away into a new cosmos:
Political and social commentary.
Disney wanted a Star Wars trilogy that would inspire new and old generations alike to buy millions of movie tickets, toys, and theme park passes. Creating a story befitting the lStar Wars universe was never the top priority, not for them. Was JJ Abrams passionate about this project? Let's just say yes. But loving a story-world and its characters is not the same as creating in that world. Abrams selected bits of the Original Trilogy he wanted to share in his own way; some of it worked, and some of it didn't. The plot's true shortcomings, though, can be summed up in two words:
Why? How?
Too often we are wondering how X happened, or why Z did ___. It's one thing to have a mysterious villain, or an unknown backstory. But when a writer takes time to establish a character's motivations only to ignore them until the plot makes it convenient for the motivations to come back, or a writer ignores the older characters' stories so the plot's MacGuffin can move to the newer characters, then there are serious problems afoot.
And we haven't even TOUCHED the flippin' Death Star 3.0 yet.
~STAY TUNED NEXT WEEK!~
More student assignments are coming my way in a few days, so I think we'll have a lovely author interview next week. After that, we'll wrap up The Force Awakens with a discussion of what makes a great villain…and why it's unwise to go the safe route.
Read on, share on, and write on, my friends!