To celebrate March Magics–and because I've final projects to grade and two novels to crack down upon–I'm sharing a previously unposted essay I wrote a couple years back when I was compiling all my Diana Wynne Jones posts into the collection Lessons Learned. Enjoy!
In "The Heroic Ideal: A Personal Odyssey," Diana Wynne Jones discusses the place of the mythic hero in contemporary story-telling, especially her own. This particular essay in Reflections on the Magic of Writing struck me on epiphanical proportions. (Yes, new word. Doesn't the fantasy genre allow for some language leniency?) In all the writing classes I had taken over the years, no one had ever broken down the echoes and inspirations between the modern and ultra-classic like that before. Jones details connections between her work and Chaucer, Spenser, and Homer, to name a few. Sure, that may sound like she's tooting her own horn, but I don't think so. Fire and Hemlock, one of her most critically revered novels, is so subtle with the fantastic you can literally blink and miss it. For instance, the first chapter is all about the protagonist Polly trying to remember something. Sounds dull, doesn't it? Yet as we go further into the story, we learn Polly is fighting through the memories be-spelled upon her by the villain. The first chapter shares Polly's initial success in remembering the true past.
Tempting as it is to go in depth on Fire and Hemlock yet again, "The Heroic Ideal" contains Jones' discussion of mythology's inspiration F&H with far more depth and humor. Besides, she wrote two other novels that serve as marvelous examples. The first, Eight Days of Luke, is a touch more obvious than Fire and Hemlock if one knows a bit about Norse mythology. I'll admit that I didn't, at least not until the movie Thor came out and my father was as giddy as an eight-year-old. (It is a decent movie, for the record–and directed by Kenneth Branagh of all people!)
Granted, Marvel's interpretation of Norse mythology is, um, loose, but you get some basics in there: the home of the gods, Thor and his dad being at odds, Loki the mischief maker, etc. Diana Wynne Jones has her own fun with these myths, and from her fun Eight Days of Luke is born.
David is stuck at home on school holiday with his horrible relations. After being reminded how he's a wretched, ungrateful little orphan they don't deserve to put up with, David skulks out into the garden and starts pacing back and forth, muttering what he feels are some really good curses—only, he doesn't really know what he's saying. The garden wall cracks and out come some nasty snakes and a boy just David's size. His name is Luke.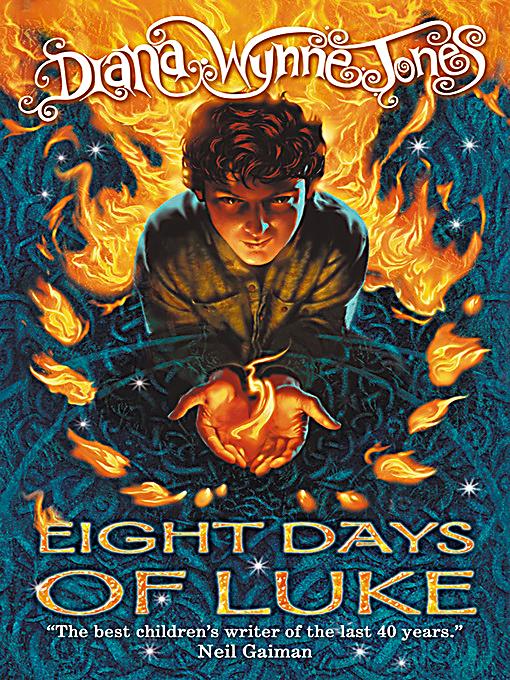 By this point I'm sure you know who the title character Luke is—that's right, Loki. David has somehow freed Luke from his prison (only Diana Wynne Jones would put a Norse god's prison beneath a marrow garden in Ashbury) and Luke's relations are coming down to get him: Mr. Chew (war god Tiu), the Frys (fertility gods Freyja and Freyr), and Mr. Wedding (Odin, chief of the gods). Thor comes along eventually when we learn why Luke's in so much trouble, and what David can do to help him. (Thor's rather the giveaway, so no fancy modern alias for him.)
One of the cool things about a quest story is that they are indeed timeless. David must outwit gods and mortals alike for the sake of his friend, just like any great hero of the distant past. Sure, folks like Perseus and Beowulf may not have had pinball or cricket, but they always had someone or something worth fighting for.
Jones' The Game puts a girl at odds with horrible relations, too, only this novella is a bit more…hmm…nonlinear, would be the best way to say it. Hayley is sent to live with a bunch of aunts and cousins she's never met before, and she quickly learns why her grandmother never liked them. She also learns just how much her grandfather bears on his shoulders—literally. Among many worldly matters, Haley's grandfather takes great care of the mythosphere, a place where Hayley's cousins secretly play The Game. Once Hayley begins playing The Game with them, reality and the mythosphere are both irrevocably changed. She discovers her grandfather's true identity: Atlas the titan. The uncle who controls them all is none other than Jupiter. And she must…well. Needless to say, I learned some more mythology thanks to this book.
Bringing past gods into the present isn't a unique idea; Rick Riordan's made a mint off of his various "modern kids vs. ancient gods" series, Percy Jackson and the Olympians being the first and, I believe, the most popular. (It's the one I read, anyway.) And I give Riordan and Jones both credit for inspiring curiosity in young readers for the olden tales of heroes and gods, of the odysseys through time and beyond.
I know we all like to make that Ecclesiastic complaint that there is nothing new under the sun. Well, it's one thing to copy, or plagiarize, but it's another to truly reimagine. Jones proves time and again that one can look to the classics for inspiration. Even the most worn of roads will take you somewhere, if you let it.
Thanks so much for reading! If you have other grand (or not-so-grand) examples of reimaginings you'd like to discuss, please share them in the comments below.
I'm really excited to share some amazing author interviews as well as more free fiction with you come April–be sure to subscribe to my newsletter for the fiction's password!
If you're as big a fantasy lover as I am, I hope you'll also check out my fiction on Amazon. Click here for more!
Read on, share on, and write on, my friends!