But the love of a good story, of terrific characters and a world driven by your passion, courage and creative gifts is still not enough. Your goal must be a good story well told.

Robert Mckee, Story
It's an opening as known as Once upon a time. It's the sort of opening to calls upon readers to leave the reality they know and enter a story both of the future and of the past—a hero's journey, a villain's redemption, a coming of age, a coming together of hearts, of friends…
…and Ewoks.
In other words: timeless. (Except maybe for The Battle for Endor, but anyway.)
The dialogue over Disney's contributions to the Star Wars universe has been….well, a pretty shitty one. We've reached the point where Star Wars fans are like the Yooks and Zooks of Dr. Seuss' The Great Butter Battle, and if you know that story, you know it doesn't end well for anyone.
So let's just put aside our Bitsy Big-Boy Boomeroos for a second, lean against the wall à la Charlie Brown–
–and talk like storytellers. Not as rabid fans, or haters, or menaces, or warriors. Just people who love crafting good stories as much as they love experiencing them. And what better way to focus on the craft than by utilizing wisdom from one of the most revered voices in storytelling?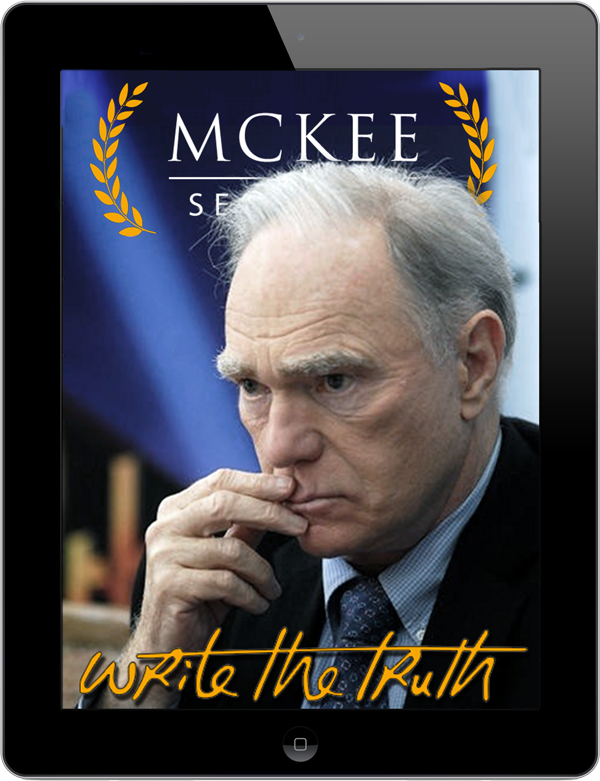 Robert McKee has been a revered voice in Hollywood for decades, as he's taught notable storytellers like Peter Jackson, Paul Haggis, and William Goldman. His book Story is one of the few texts I've kept from my hellish graduate school days, as it utilizes films from several different genres to show how smart writing with character development, tension, and scene structure can build a powerful story with which audiences can connect.
It is with McKee's craft lessons in Story I'd like to discuss the flaws that plague Episodes VII, VIII, and IX of the Star Wars saga. As storytellers, I think we can all agree on some pretty important things are necessary to make a strong story, and therefore understand certain choices that both JJ Abrams and Rian Johnson made with their installments. To be clear,I'm not going to bash either director. On the contrary, I think both brought some positive elements to Star Wars that shouldn't be dismissed just because you don't agree with all of their other creative choices.
No, the flaw lies in the foundation of the sequel trilogy. Like the parable of the foolish man who builds his house upon the sand, the recent Star Wars trilogy was built without a solid foundation. In other words, the creative powers of Disney failed to do the necessary worldbuilding—galaxy-building, if you will—for the stakes of the new trilogy to appeal to audiences old or new.
In this blog series, I'm going to utilize McKee's words on story craft to break down where the sequel trilogy's potential shines as well as where it dims. Every film has its moments, so I'm not going to dwell for a thousand words on one and then just rush through another.
And the truly tragic part? This could have aaaaaaall been avoided had Disney stuck with what it already built.
Story is about originality, not duplication.

Robert McKee, Story
Disney purchased Lucasfilm and rights to Star Wars in 2012, and by 2014 had created its own original storyline in the Star Wars Universe. The story was set between the prequels and original trilogy, a time when the Empire are hunting down any surviving Jedi and the Rebellion is slowly beginning to form.
Star Wars: Rebels ran for just four seasons, but in that time gained a solid following of fans, a good merchandise line, and even splinter stories in books and comics. The cast was a mix of alien and human-like folks, male and female, adults and kids, each with unique talents that came together to create a strong team to deal with a vicious gallery of Imperial foes.
The storyline fit snugly in the between the established trilogies without disturbing any of the arcs of previously established characters in the Skywalker episodes. Audiences were happy to go on adventures with the scrappy kid, laugh at the cranky droid, marvel at the piloting smarts of the lady alien, feel for the Jedi mourning the loss of his brethren…
…in other words, Disney had successfully built a solid setting in this galaxy far, far away that was unique while also adhering to the state of this galaxy as Revenge of the Sith left it.
Story is about eternal, universal forms, not formulas.

Robert McKee, Story
You'd think that for a studio that loves making live-action remakes of their animated properties, bringing a live-action adaptation of Rebels to film would have been the easy-peasy choice for their feature debut with the Star Wars franchise. They had fans happy with the show, they had storylines all written out ready to go, characters fun and fleshed out. All the hard work of worldbuilding, character development, and plotting was already done.
But perhaps, to those Disney Powers That Be, this was the problem.
Ezra the kid wasn't like Luke enough.
Hera the pilot wasn't like Leia enough.
Kanan the Jedi wasn't like Kenobi enough.
The Inquisitor wasn't not like Vader enough.
Rebels wasn't enough like Star Wars' original trilogy, a film series loved by millions across multiple generations. Rebels' own successes just weren't enough.
Disney was determined to repeat the cosmic success of the 70s and 80s, and decided the best way to do this was by treating those original films as a formula to follow.
This choice, right here, before ANY director could say "Action!", marks the beginning of the troubles for Disney's Star Wars films. Had they begun with a feature film cast with their own characters and followed previously tested storylines, they would have planted the seeds of goodwill among audiences while also learning the ins and outs of producing a sci-fi adventure epic that is a Star Wars film.
Instead, they chose to fly as close to A New Hope as possible. Too close, as we shall see.
~STAY TUNED NEXT TIME!~
Oh, I'm keen to do some analysis of the entire sequel trilogy, so you're stuck with me on this topic for a little while. 🙂 But I'll also throw in some AMAZING music by Daniel Pemberton I got for Christmas, plus there's some swanky author interviews coming, too.
Read on, share on, and write on, my friend!