Good morning, my friends! At last I can write to you by the light of a Christmas tree. Many still slumber in this snowless cold of Wisconsin, but thanks to coffee and sweet sounds of soft singing, I'm content to sit and write to you of Christmas traditions…and murder!
"It's dying out, you know," he said, "the real old-fashioned type of Christmas. People spend it at hotels nowadays. But an English Christmas with all the family gathered round, the children and their stockings, the Christmas tree, the turkey and plum pudding, the crackers. The snowman outside the window…"

"The Adventure of the Christmas Pudding"
Two years ago I shared with you a few of the traditions Bo and I have passed on to our children. I realize, however, I didn't stress just how important those Christmas cookies are. Telling Bo to "skip the cookies this year" is akin to telling me to "skip the music this year." In order words: BLASPHEMY! Bo will spend hours upon hours dying the dough, organizing the cutouts, laying out the sprinkles and ships for the kids to use for decorations. He loves giving these cookies to friends and family because they embody the love his mother shared when she baked cookies in his childhood. Though dead for twenty years, her love sweetly returns every Christmas through Bo, a tradition I love to see him honor.
Traditions, especially Christmas traditions, have this way of calling us back to our childhood. Once more we feel the snap of magic in winter's air, hear the joy in song, see beauty in the world when the candles are lit and ornaments are hung. And don't forget the food!
"All the same old things, the Christmas tree and the stockings hung up and the oyster soup and the turkey–two turkeys, one boiled and one roast– and the plum pudding with the ring and the bachelor's button and all the rest of it in it. We can't have sixpences nowadays because they're not pure silver anymore. But all the old desserts…"
"What does all this have to do with your little murder bit earlier, Jean?" you may ask.
Okay, okay, I'm getting there.
While some reread A Christmas Carol every year, I love to reread the Poirot short "The Adventure of the Christmas Pudding." (No, I do NOT like to reread Hercule Poirot's Christmas…though I'm the first to admit the David Suchet adaptation of this clunker is hilarious because they added a storyline of Inspector Japp dealing with his in-laws.) The premise for "Christmas Pudding" seems straightforward enough: a government official and a princeling ask Poirot to help them recover a jewel stolen by someone they suspect to be staying with the Lacey family at the old manor house King's Lacey. They manage to bribe Poirot with the promise of the manor's modern heating system–and, perhaps, some bloodshed.
"You see, it is very famous, this ruby. There is a long trail behind it, a history. Much bloodshed–many deaths!"
Poirot finally agrees to help and goes to the manor house under the guise of wanting to experience a good old-fashioned English Christmas. Though the Laceys do not know of the jewel, they do know they don't like their granddaughter's boyfriend, and hope this detective can help them disentangle their granddaughter Sarah from the cad Desmond, who only seems good when he tends to his mysteriously ill sister always hiding away in her guest room.
So, we have the traditional homecoming mixing with the nontraditional guests. This clash promises some engaging storytelling to come–and it does.
Hercule Poirot entered his bedroom. It was a large room well provided with radiators. As he went over towards the big four-poster bed he noticed an envelope lying on his pillow. He opened it and drew out a piece of paper. On it was a shakily printed message in capital letters.

DON'T EAT NONE OF THE PLUM PUDDING. ONE AS WISHES YOU WELL.

Hercule Poirot stared at it. His eyebrows rose. "Cryptic," he murmured, "and most unexpected."

A note is no dead body, but there's a clear warning here of danger to come, and of all things that danger is connected to a Christmas dessert. I can't imagine Bo's cookies being dangerous, but then again, we don't serve his cookies ON FIRE.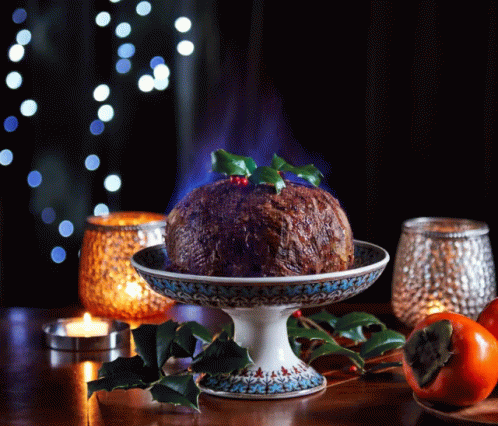 On a silver dish the Christmas pudding reposed in its glory. A large football of a pudding, a piece of holly stuck in it like a triumphant flag and glorious flames of blue and red rising round it. There was a cheer and cries of "Ooh-ah."
Folks, it is utterly impossible for this anxious-addled mother of mischief-maker kiddos to imagine serving food on fire and expecting them to EAT IT. I mean, I know you don't eat the fire, but still.
Rapidly the plates were passed round, flames still licking the portions.

"Wish, M. Poirot," cried Bridget. "Wish before the flame goes…."

…. In front of everyone was a helping with flames still licking it. There was a momentary silence all round the table as everyone wished hard.

There was nobody to notice the rather curious expression on the face of M. Poirot as he surveyed the portion of pudding on his plate. "Don't eat none of the plum pudding." What on earth did that sinister warning mean? There could be nothing different about his portion of plum pudding from that of everyone else! Sighing as he admitted himself baffled–and Hercule Poirot never liked to admit himself baffled–he picked up his spoon and fork.
If the great Belgian detective admits he's baffled, then readers know there's a real mystery afoot. We know there's a precious ruby somewhere in this manor. We know the the manor's heir is dating a ne'er-do-well that is surely the ruby's thief. But what has any of that to do with this age-old Christmas tradition?
We soon find out.
Something tinkled on [Poirot's] plate. He investigated with a fork. Bridget, on his left, came to his aid.

"You've got something, M. Poirot," she said. "I wonder what it is."

Poirot detached a little silver object from the surrounding raisins that clung to it.

"Ooooh," said Bridget, "it's the bachelor's button! M. Poirot's got the bachelor's button!"
Every portion of the pudding contains a little token: wedding rings, a thimble, a pig, a coin, etc. For my lovely friends across the Pond, you'll have to enlighten me about what tokens are or are not traditional, for my two-second search on Google only alluded to coins, thimble, bachelor's button, and a wishbone. (And again, Panic-Mom-Me would be crying "THEY'RE GOING TO CHOKE!" throughout all this. Prrrrobably for the best we don't have the Christmas Pudding Tradition in the Lee house.) I especially wish I knew more about the traditional tokens because of what happens when the lord of the manor digs into his portion.
"God bless my soul," [Mr. Lacey] ejaculated. "It's a red stone out of one of the cracker brooches." He held it aloft.

…. "But what I can't understand," said Mrs. Lacey, "is how it got into the pudding."
Mr. and Mrs. Lacey are both baffled about this particular "token." Poirot isn't–nor are we readers–but the reaction of the Laceys makes it clear that of all the tokens Tradition dictates be put into the Christmas pudding, a red stone isn't one of them. It's a peculiar twist on the tradition to them, but to Poirot, the pudding provides the answer to the mystery of the ruby's hiding place.
Of course, now he has to figure out how it got there in the first place. The answer comes in yet another Christmas tradition learned when Poirot compliments the cook Mrs. Ross on her pudding and asks how she makes it.
"…As it was, that pudding was only made three days ago, the day before you arrived, sir. However, I kept to the old custom. Everyone in the house had to come out into the kitchen and have a stir and make a wish. That's an old custom, sir, and I've always held to it."
When the cook says "everyone in the house," she means it: not only did the family members come and have a stir, but the staff and all guests–including the suspected thief Desmond and his supposed sister. This tradition provides the nontraditional guests the opportunity to hide their criminal activity in an unlikely place.
Yet why would they hide the ruby inside something everyone was going to eat? It turns out the Christmas pudding wasn't meant to be the Christmas pudding, as the cook explains.
"As a matter of fact, sir," said Mrs. Ross, "it was the wrong pudding you had for lunch today…This morning, when Annie was getting [the Christmas Day pudding] down from the shelf in the larder, she slipped and dropped it and it broke…. So we had to use the other one–the New Year's Day one."
Thanks to the tradition of multiple puddings for the holidays, the Christmas dinner had been saved–and the ruby exposed.
Of course, then, there comes a wee spot of murder, but I'll let you read about that on your own. Honestly, "The Adventure of the Christmas Pudding" is a quick'n'fun read for your lunch break or before dawn creeps to your window.
As you embark on your own writing adventures this December, consider the holiday traditions you've known since childhood. What villainy could hide under the plate of cookies, or in the shadows beyond the carolers outside? A festive promise of mystery and adventure awaits!
~STAY TUNED NEXT WEEK!~
I'm lining up author interview for 2020! Some have already reached out to me, and I'm in the process of reaching out to others. It promises to be a smashing year of sharing authors we love! I've also got some brilliant music to share with you both seasonal and magical. Plus, let's not forget an update from Blondie and her own storytelling as well as the importance of giving the gift of literacy to others. Here's hoping I can get Bash back on his Transformer Christmas story, too. 😉
Read on, share on, and write on, my friends!