Welcome back, my fellow creatives!
Last year, my husband and I began watching various episodes of mystery series together. It began with Columbo–
–continued with Sherlock Holmes–
–and ended with some Poirot.
Now as I've noted, my dear Bo is quite the cinephile, so on top of the television adaptations of these stories, we were also watching the film adaptations. This meant we saw four different versions (at least!) of Hound of the Baskervilles and a couple versions of Death on the Nile—the 1978 version starring Peter Ustinov as Poirot, and the 2004 version starring David Suchet as Poirot. (I had yet to see the new Kenneth Branagh adaptation at the time.)
While Bo was giving me commentary on what actor had gone on to do X or Q or T, I was noticing how certain plot threads would come and go depending on the adaptation. Now for technical reasons, I could see how a story is condensed so it can fit into a two-hour movie or three-part special. This will mean cutting characters or condensing characters for the film–normal stuff. As writers, we can debate the trials and tribulations of film adaptations until the cosmic cows come to roost, or however that saying goes.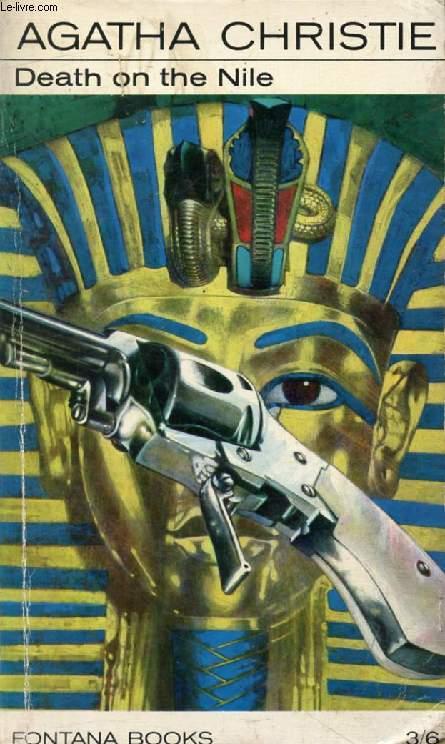 But there was something about the Poirot Death on the Nile adaptations that left me pondering. Lots of good fiction depend on multiple plot threads to keep the reader engaged from the first page to the last. Mysteries in particular need those extra plot threads to create red herrings and plot twists so that the solution to the mystery is a surprise to the reader. In order to populate those other threads, one must have a sizable cast of characters.
But is a big cast really necessary for the story, or are they just filler?
THAT is the question I'd like to discuss with you today, and I'm keen to use Death on the Nile to do so. If you don't recall the original story's plot, the Wikipedia entry covers it fairly well. (The entry also mentions the film adaptations I'll be mentioning here, too.) I've also snagged the original cast list from Litcharts so we can see what Agatha Christie saw fit to print. I've actually trimmed a few folks out, trying to limit us to the folks who rode the Karnak during the majority of the novel.
ALSO: Spoilers abound. Writer problems trump "spoiler-free" descriptions any day.
THE ORIGINAL CAST OF THE 1937 NOVEL (PRETTY SURE, ANYWAY)
Hercule Poirot: This is a given.
Linnet Doyle: the spoiled rich English lady who marries Simon Doyle and gets murdered.
Jacqueline De Bellefort: Linnet's best friend who was engaged to Simon until Linnet gets involved. Also, one of the story's murderers.
Simon Doyle: the youngest son of a well-to-do family, so he loves fancy things but has no money for them. Loves Jackie but marries Linnet. Also also, the other one of the story's murderers.
Colonel Race: I didn't remember him from other stories, but apparently he befriended Poirot before Death on the Nile takes place. (Edit: I had to look this up–they do meet in Cards on the Table.) He is present on the riverboat Karnak due to a potential Communist and/or Anarchist threat, but from a storyteller's standpoint, he is the trustworthy one Poirot can speak freely about his observations so readers know what's going on.
Andrew Pennington: An American trustee for Linnet Ridgeway due to family connections. There's a partner, but he barely factors in, so we'll not bother with him.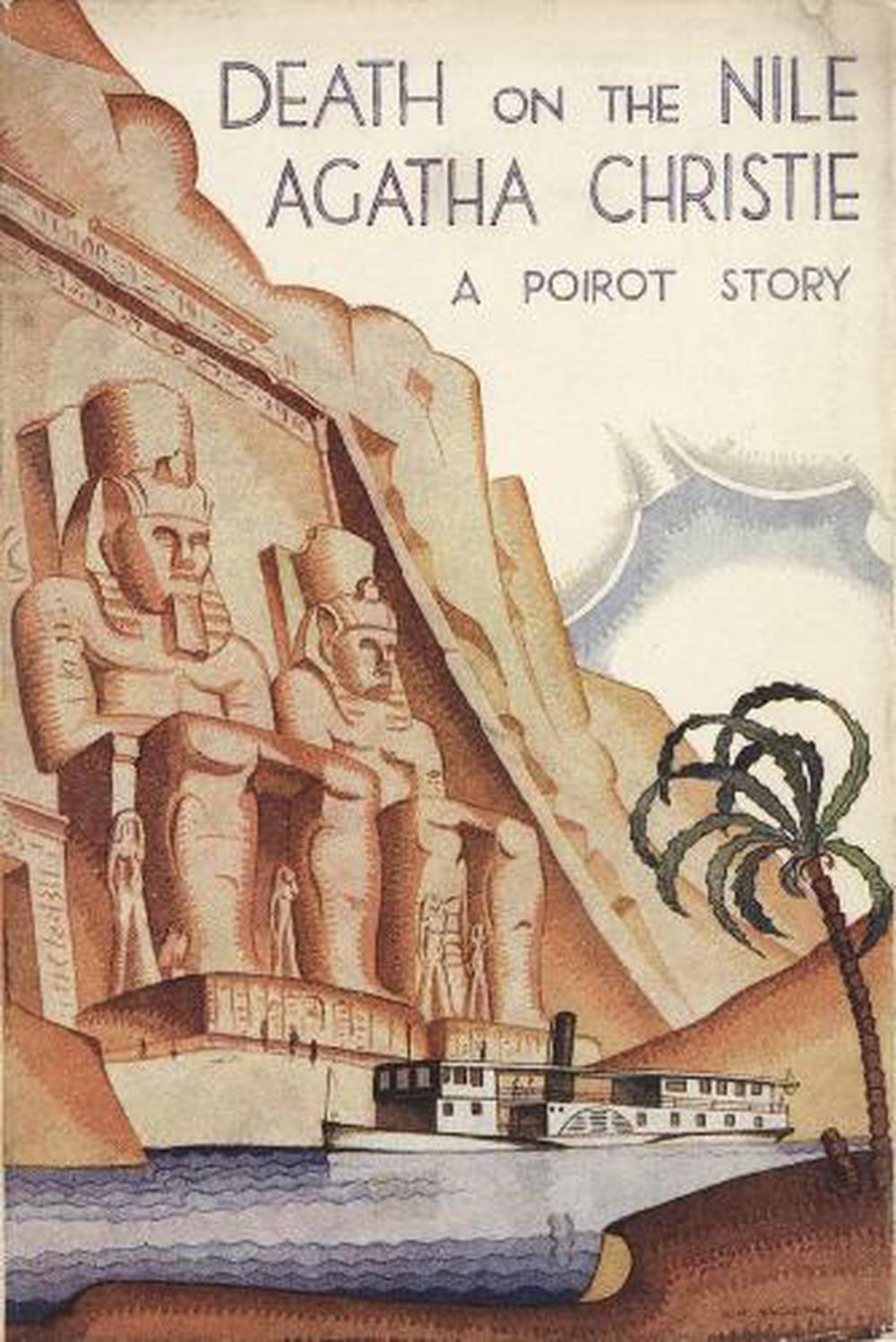 Mrs. Salome Otterbourne: a writer of sensational, sexualized fiction who drank more the less her books sold.
Rosalie Otterbourne: Daughter of Salome–and because of the alcoholism, her mother's keeper. This leads to Rosalie being very difficult for folks like Poirot to interact with.
Mrs. Allerton: the "nice" character of the novel, and essentially Poirot's gateway into meeting all the other passengers of the riverboat Karnak.
Tim Allerton: son of Mrs. Allerton, eventual lover of Rosalie Otterbourne, and cousin of Joanna Southwood who enjoys hanging out with Linnet before the trip to Egypt. He helps Joanna steal jewelry and make forgeries, and on this boat, it's his job to switch their fake pearls with Linnet's real ones. This leads to one of the minor plots of Linnet's missing pearl necklace being a possible motive for murder.
Miss Marie Van Schuyler: wealthy old American lady who bosses her cousin Cornelia and nurse Miss Bowers around throughout the novel. She's also a kleptomaniac, which adds to the pearl necklace subplot.
Cornelia Robson: a nice girl who becomes a tool for Linnet and Simon and an object of the affections of Mr. Ferguson and Dr. Bessner.
Mr. Ferguson (Lord Dawlish): a Communist who is hateful to pretty much everyone except Cornelia, infatuated with her genuinely kind nature. Secretly a member of a very well-to-do English family. His brazen comments about how awful rich people and capitalism are material for the political agitator subplot.
Miss Bowers: nurse to Miss Van Schuyler who isn't actually treating the old lady for anything. She's there to keep the kleptomania in check and return things Van Schuyler steals, which means there is a "mysterious" return of the necklace, only it's a forgery, and…yeah, the necklace subplot is a bit much.
Signor Richetti: a middle-aged Italian archaeologist that Poirot meets on an excursion near the hotel (which Ferguson also came on). He turns out to be the political agitator that Colonel Race is after. He has absolutely nothing to do with the deaths on the Nile. He's just there to be ominous and threatening.
Louise Bourget: maid to Linnet and Simon Doyle, Louise initially appears to be a minor character, until suddenly she takes center stage when she becomes the second murder victim.
James Fanthorp: a young English lawyer for Linnet Ridgeway, the nephew of the lawyer William Carmichael. I vaguely remember this guy.
Dr. Bessner: a middle-aged European doctor on board the Karnak who takes care of Simon after his leg injury and who eventually proposes to Cornelia Robson. Yes, Cornelia chooses this dude over the English Lord, much to her grandmother's chagrin.
Fleetwood: an engineer on the Karnak who attempted to marry one of Linnet's old chambermaids, despite the fact that he was already married to an Egyptian woman. Linnet prevented the marriage, which made both Fleetwood and Louise extremely angry.
So, we have our cast, and it's not a small one. We have our primary players who drive the plot forward with their secret and not-so-secret actions, and those who make stuff happen for our primary players to react to.
Realistic Population
Death on the Nile primarily takes place in Egypt, broken up with stops at hotels and busy locations. The named characters ride on the S.S. Karnak up the Nile River together, and it is on this boat that the murder and mayhem take place. In the original novel, Ustinov adaptation, and Suchet adaptation, most of the characters have negative, tenuous connections to Linnet Doyle–her father bought out one character's business, ruining the family, for instance. In another example, we see that in the Ustinov adaptation, Dr. Bessner's clinic is about to lose its funding because Linnet Doyle is changing her father's financial ties. But not all characters have these connections, and that is okay. Something we must remember as writers is that when a story is taking place in a public space, there will be strangers to the story. There are plenty of other visitors to the hotels in Egypt, and the riverboats are common transportation for tourists. Readers don't expect every tourist on a boat to be connected to every other tourist on the boat. That's what makes the old connection between Mrs. Van Schuyler and Linnet Doyle a surprise. On the surface, Mrs. Allerton and her son Tim have no connection whatsoever to Linnet Doyle, but when Joanna's name is mentioned, a shady connection reveals itself.
To put it another way, it'd be as if the Hogwarts School was only populated by Harry and his friends, and Draco and his friends. The school just has four teachers at any time and that's it. None of the other students and faculty matter, so trim them out!
Readers expect a school to be populated. They expect a city to be populated. They expect a passenger boat to be populated.
Of course, Agatha Christie had plans for the characters she put on the Karnak, but at the outset, having this large group made sense because it's a tourist's boat. It's supposed to be busy and crowded. But it's not necessary to make all those characters obviously connected. She didn't make intricate connections between every student and every teacher in Cat Among the Pigeons, either; sometimes, you just need people there because people are supposed to be there. They are, essentially, moving scenery. And because those extras are treated like scenery, we readers are not expecting backstories on all of them. We don't know all the backstories of all the crewmembers on the Karnak, nor are we looking for them. They are there to simply fill in the scene.
In the most recent Branagh version, however, this entire cast–yes, all those people–are the wedding party for Simon and Linnet Doyle. Considering Branagh's time in Shakespeare, I suppose I shouldn't be surprised by this strategy. Now the entire cast's presence on the boat is justified. Such a move, however, means all the secretive, surprising connections are thrust out into the open. The chances for surprise go way down. And the fact some of those connections are negative at the outset makes it all the stranger some of these people are invited to the wedding. For instance, Branagh transforms the Dr. Bessner role part into another doctor who was Linnet Doyle's former fiance. The man is clearly fawning after Linnet until she dies. Why is he at this destination wedding? No idea. But we need our suspects, dammit!
More Characters = More Subplots. Yay!
As previously noted, having this size of a group means one can have some other plot threads. These smaller plot lines give the writer a chance to break up the major plot and allow little breaks from major events without bringing the story to a standstill. After all, if all the major plot points of Death on the Nile were smushed together (marriage/murder/second murder/third murder/reveal), you'd have an overwhelming episode of a television show rather than a movie, let alone a novel. So having other plot lines allows the writer to build curiosity in the reader. What did that dollar fragment in the maid's hand mean? Wait, who is Mr. Farnthorp, really? Why is the Signor so upset about his note? Why is Rosalie Otterbourne so protective of her mother?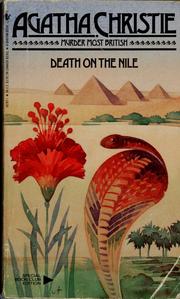 Now even in a novel, one can have superfluous plot threads. Yes, Dame Christie, included. Take the Signor Richetti character. His sole purpose is to be the reason Colonel Race boards the Karnak. He is a sulky man who has no connection whatsoever to the Doyles or anything going on. He gets to have one angry interaction with Linnet Doyle, and that's it. There's a reason that all three adaptations of this novel omit this character. One could remove the "political agitator" subplot and affect absolutely nothing else in the story, which is why the films consistently cut him out.
The pearl necklace subplot is altered from film to film. Sometimes the pearls are forged, sometimes they are just stolen. Sometimes it's the klepto old Miss Van Schuyler, while in the Branagh version the character created to replace Col. Race took the pearls in order to have a clean start with his love, Rosalie Otterbourne, whose mother is a jazz singer hired by the Doyle's for this destination wedding thing. Unlike the political agitator plot, the stolen pearls provide a worthwhile red herring to Linnet's murder–someone may have murdered her out of hate, but maybe they were just greedy for the money in those pearls. Greed doesn't require a previous relationship or connection, and such greed allows strangers to become suspects. In a mystery set on a tourist boat, such a move makes sense and therefore requires characters to flesh it out.
More Subplots = More Characters to Keep Track of. UGH.
So you saw that list I made earlier. Let's face it–that list is huge. Macbeth has roughly the same number of named characters. There's a reason films often condense or omit characters from a movie: it's just too much. The Suchet adaptation, for instance, eliminates three characters. The Ustinov adaptation deletes six. Branagh cuts a few, but then also adds some different ones to fill in the gaps. Yet these adaptations were able to tell the same essential story.
This means the effects of cast changes are felt far more in the subplots than in the major plot. Branagh's adaptation, for instance, pushes love as the major motive for everything: the pearl necklace is stolen for love. Linnet is murdered for love. The maid–and the necklace thief–are murdered to protect love. By reorganizing the characters and how they connected, Branagh altered the very subplots those characters served.
And…sure, I guess that's okay. But when there's only one real reason folks are doing anything, you suck a lot of mystery out of the story.
Yes, having a big cast is a pain. Keeping track of multiple motivations is a pain. The Ustinov adaptation made this painfully clear with the connections they created for motives: Mrs. Otterbourne was getting sued by Linnet for libel (and Rosalie would go far to protect her mother, wouldn't she?); Dr. Bessner's clinic was going to lose funding; Communist Ferguson openly despised Linnet's wealth and wanted to see her dead; the trustee Pennington was embezzling Linnet; even the nurse Miss Bowers blamed Linnet's family for ruining her own. You couldn't take a step on that boat without bumping into someone with the motivation to kill Linnet.
Keeping track of all those motivations and connections is very, very hard, for on top of making them exist, you have to make them matter. This means dedicating page space (or screen time) that adequately gives every plot thread relevance and urgency to the overall storyline. The more plot threads you have, the more complicated your pacing will have to be, too, for the major plot thread can't be out of sight for long.
Final Thoughts…
So if you the writer are not sure you can make it all weave together, DON'T DO IT.
There is nothing wrong with keeping to a few plot threads and a small cast. There's a reason "cozy" mysteries typically use a small group of characters: readers can track them easily, their motivations are easy to track as a writer, and any change to those characters is easier to distinguish because there's less moving scenery to distract a reader. As one who has read mysteries for a few decades, nothing infuriates a reader like goofed character/plot connections. It messes up the story, and it makes you the writer look like you don't know your own story-world.
Now I'm sure that, assuming you made it to the end here, you have your own thoughts on stories and the size of their character cast. I'd love to hear them!
I know that the easy advice here would be to "create only the characters your story absolutely needs," but sometimes we just don't know how many characters that entails–not in the first draft, anyway. I still grind my teeth over the plothole the filmmakers created in Harry Potter and the Prisoner of Azkaban because they condensed the story too damn much. It takes time and practice to first find our central plot thread, and then the characters needed to see that plot thread through. I'm still working on this just like you, so I'd love to hear your take on big/small character casts, plot threads that could have used a few more characters, a few less, and so on.
And what's your favorite book cover from the assortment in this post? I admit, I love the clean, cool colors of this one.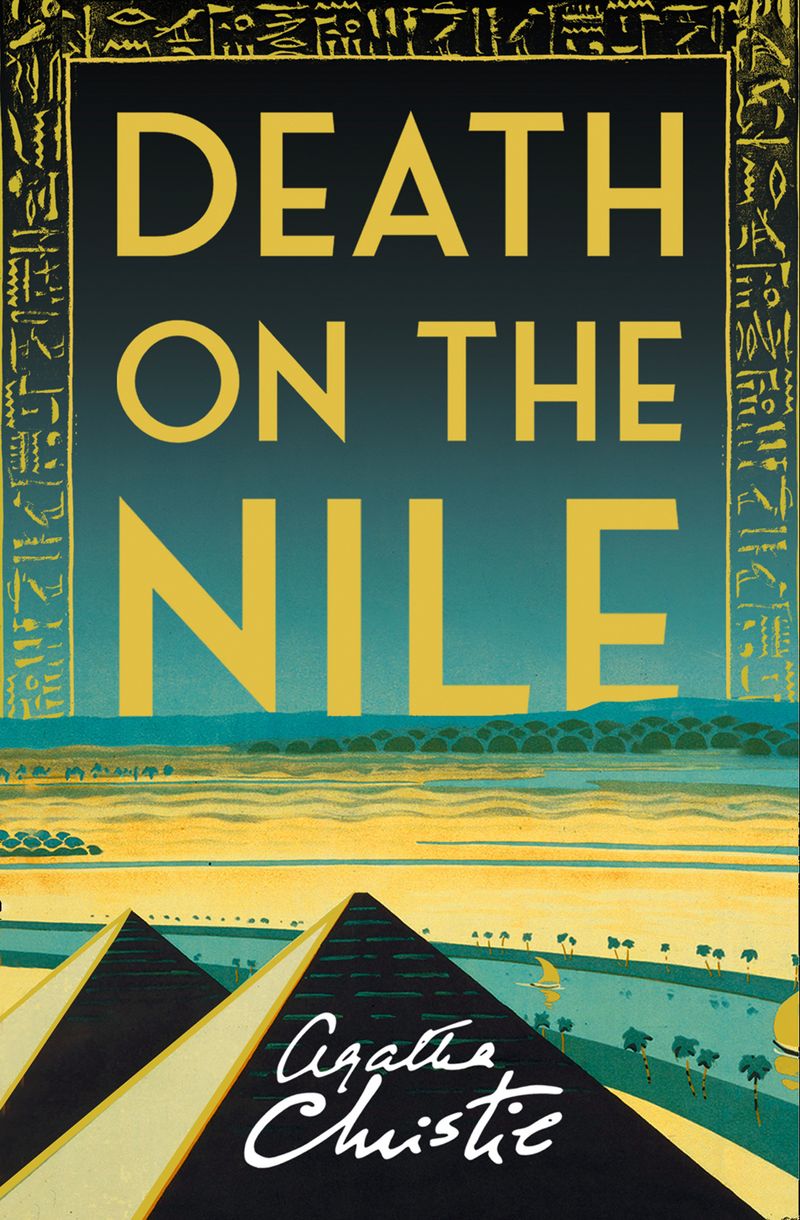 ~STAY TUNED!~
I've another indie interview on the way! Plus we could wander the Holmesian countryside if you'd like, dissect the plot and characters of my own fiction, find inspiration among the sounds of nature, or take up a dragon to fight Napoleon. Mystery and adventure await!
Read on, share on, and write on, my friends!