What does spring smell like to you?
SMELLS are everywhere and strong, and, except for those of ENCHANTRESSES and INCENSE, unpleasant. Even DANGER has a Smell–the REEK OF WRONGNESS. There is something in the chemistry of the land that makes Smells. It is probably a fallout effect of MAGIC, but see also SOCKS and TROUSERS.
No, no, no–although Diana Wynne Jones is spot on with that Reek thing.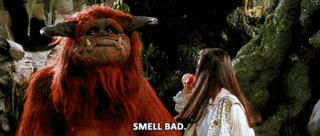 While it's true that springtime in Wisconsin has some unpleasant odors–fertilizer, anyone?–there are also the gorgeous smells of budding fruit trees and daffodils, fresh-cut grass and firepits.
Nothing gets my mouth watering like the smell of a meat over a fire, be it a grill or a firepit. Blondie, too, is always happy to see Bo cooking hot dogs outside, or to have a weenie roast with my mom. The twins…well, like me they enjoy setting marshmallows on fire. Unlike me, they don't eat them in a s'mores, the weirdos.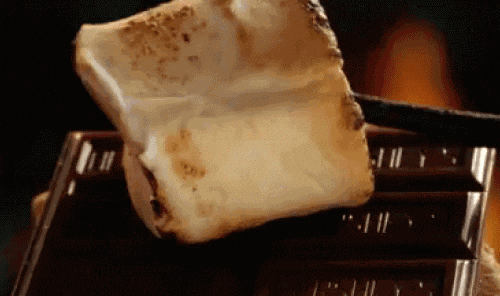 Since yesterday's schooling time was…um…not great, let's consider the contented joy of cooking night fires preparing our favorite savories and sweets…and how those in Fantasyland so rarely seem to have either. Then I'm going to share a couple slow cooker recipes that Bo and I have enjoyed here because, well, being in lockdown and unable to go camping, we need to bring the taste of s'mores in SOMEhow.
FOOD. See STEW, SCURVY, STEW, WAYBREAD (also known as Journey Cake) and STEW–though there are occasional BIRDS, FISH, RABBITS and pieces of cheese. Generally the diet is an unvaried one, although MARSH DWELLERS can work wonders with ROOTS. Puddings are unknown except occasionally in the Courts of KINGS. Tourists who suffer from diabetes should be quite safe.
WAYBREAD OR JOURNEY CAKE is a flat cake, infinitely nutritious and weighing almost nothing, on which Tourists may sustain themselves for long periods. In appearance, it seems to be halfway between a ricecake and a ship's biscuit, and in substance, it is truly remarkable since those eating it are never hungry and absolutely never suffer from any deficiency disease (see SCURVY). In some areas there is also a kind of grass capable of being eaten instead of Waybread, but this seems to grow only when your Waybread has run out. It is strange that the inhabitants, given the remarkable properties of Waybread and grass, do not choose to live entirely on one or the other. The reason must be that neither tastes of anything very much. After a month of eating them you will even be glad of STEW.
WATER. You may drink or wash in any Water, however scummy, while on the Tour, except in the MARSHES, where it is full of wriggly things. Water in Fantasyland does not harbour germs. The only other Water it is unwise to touch will be either near the home of an ENCHANTRESS or on the trail left by a WIZARD. This may turn you into things or show you disturbing pictures.
STEW (in which thick and savoury translate as "viscous" and "dark brown") is the staple FOOD in Fantasyland, so be warned. You may shortly be longing passionately for omelette, steak, or baked beans, but none of these will be forthcoming, indoors or out. Stew will be what you are served to eat every single time. Given the disturbed nature of life in this land, where in CAMP you are likely to be attacked without warning (but see BATH), and in an INN prone to be the centre of a TAVERN BRAWL, Stew seems to be an odd choice as staple food, since, on a rough calculation, it takes forty times as long to prepare as steak. But it is clear the inhabitants have not yet discovered fast food. The exact recipe for Stew is of course a Management secret, but it is thought to contain meat of some kind and perhaps even vegetables. Do not expect a salad on the side.
While the following casserole isn't exactly fast food, either–or easily transportable–it is quite yummy with its hint of Thanksgiving. Plus it's a great way to utilize stuff likely sitting in your pantry and freezer. I got it from Fix-It and Forget-It: 5 Ingredient Favorites, a book that's been a big help in slimming down our grocery list.
Ground Turkey with Stuffing and Veggies
Prep: 10-15 minutes
Cooking time: 3-8 hours
Ideal slow cooker size: 3-4qt.
Serves: 6
Ingredients:
* 1lb lean ground turkey
* 2 cups frozen mixed veg
* 1/4 cup Italian dressing
* 1tsp steak sauce optional (I've yet to use it)
* 16oz can wholeberry cranberry sauce
* 6oz pkg. stuffing mix for turkey
Combine ground turkey, veg, Italian dressing, and steak sauce (if using) in the slow cooker.
Pour cranberry sauce over top. Sprinkle with dry stuffing mix. I also slice up 3 tablespoons of butter to spread across the stuffing, too.
Cover and cook on low 6-8 hours or on High 3-4 hours.
Honestly, I burned a firewood-scented candle while eating my helping of s'mores cake. I love love LOVE the smell of campfires, and the Fix-It and Forget-It: Slow Cooker Dump Dinners and Desserts book gave me a chance to transport myself to that beloved setting while the kids ran around the house in a sugar rush. Yes, this dessert is SUPER sweet, so take it in small doses. 🙂
S'mores Lava Cake
Prep: 10min
Cooking time: 2.5-3 hours
Ideal slow cooker size: 5-6qt
Serves: 8
Ingredients:
* approx 15oz box chocolate cake mix, plus ingredients listed on back
* 3.9oz box instant chocolate pudding mix
* 2 cups cold milk
* 0.5 cup mini marshmallows
* 0.5 cup crushed graham crackers
* 0.5 cup chocolate chips
Grease crock.
Prepare cake batter according to package directions directly in crock.
In a bowl, prepare the chocolate pudding mix with the 2 cups of milk.
Cover cake mix with mini marshmallows in crock, then carefully spread pudding mix over the marshmallows.
Top evenly with crushed graham crackers and chocolate chips.
Cover and cook on Low 2.5-3 hours or until edges are done and pudding is bubbly. (I had to go longer, around 3.5 hours, I think, but that could have been my crockpot.)
Lest I forget, I'm putting my own stories on sale to celebrate Wyrd and Wonder, too!
My Historical Fantasy novella Night's Tooth will be FREE May 15th-18th. It was so much fun digging into the western genre and uncovering the magic hidden there.
Mississippi River Valley, 1870s. The white man wields rails and guns to bring law to the land. But there are more than wild animals hiding in the territories, and it will take more than guns to bring them down.

Sumac the bounty hunter needs no guns to hunt any bandit with a price on his head, even one as legendary and mysterious as Night's Tooth. But Sumac didn't count on other bounty hunters coming along as competition, nor did he expect hunters sharing his own magical gifts.

It's one man against a gang and a mystery, all to protect a train that must cross the territories at all costs…

Inspired by classics like For a Few Dollars More and fantasy cult favorites like Highlander, "Night's Tooth" is a western with a fantasy edge set in the Fallen Princeborn universe.
My YA Fantasy Novel Fallen Princeborn: Stolen will be just 99 cents during Memorial Day weekend (May 22-25). If your neighborhood's still on lockdown like mine is, let's escape together in the hidden farmlands where magical portals await…
Desperate, they crossed over The Wall to hunt Humans. But they made one mistake. They took Charlotte's sister.

In rural Wisconsin, an old stone wall is all that separates the world of magic from the world of man—a wall that keeps the shapeshifters inside. When something gets out, people disappear. Completely.

Escaping from an abusive uncle, eighteen-year-old Charlotte runs away. She takes her bratty younger sister Anna with her, swearing to protect her. However, when their bus breaks down by a creepy old farm, the inconceivable happens—Anna is wiped from human memory.

But something inside Charlotte remembers. So she goes over the Wall in a frantic rescue attempt, accidentally awakening a once cruel but still dangerous prince, and gaining control of a powerful weapon, his magic dagger.

Charlotte's only chance to save Anna hinges on her courage and an uneasy alliance with some of the very monsters that feed on humanity.

Welcome to River Vine, a shrouded hinterland where dark magic devours and ancient shifters feed, and where the seed of love sets root among the ashes of the dying.
Whew! I think that'll do it for today. I've planned a puppet-themed school morning for the kiddos, so we'll see if this goes gloriously well or gloriously awry…
Read on, share on, and write on, my friends!